I couldn't go all fall with posting a pumpkin recipe. These are my favorite pumpkin cupcakes and one of my favorite frosting paired with them.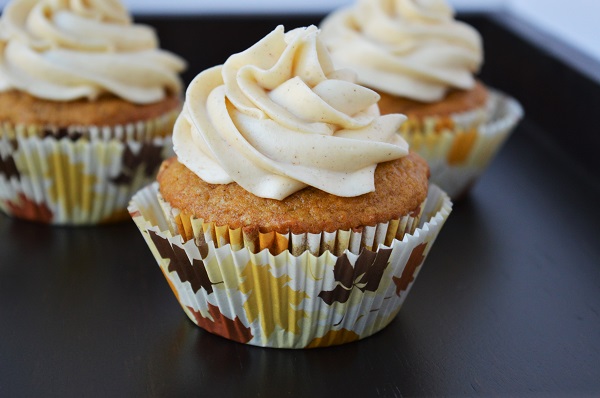 When I took these to work to share, reactions where "these are so good!" and "do you sell these?" and "can I have the recipe?" So, I figured they were good enough to post. Side note, this also pairs well with the salted caramel frosting from the apple cupcake recipe.
Cupcakes
2 cups flour
1 tsp baking soda
1 tsp baking powder
1 tsp salt
2 1/2 tsp pumpkin pie spice
1 cup brown sugar
1 cup white sugar
2 sticks (1 cup) butter, melted and cooled
4 eggs
1 15 oz can pumpkin
Frosting
1 1/2 sticks butter (.75 cups)
6 oz cream cheese
1 cup powdered sugar
1/2 tsp cinnamon (more to taste)
Preheat oven to 350 degrees.

Combine the first 5 ingredients in a medium sized mixing bowl.

In the bowl of a stand mixer, or other large mixing bowl, add melted butter and sugars and mix on medium until well combined.

Add eggs one at a time waiting after each until mixed well.

Slowly add in about 1/2 of the dry ingredients. Mix on low until just combined. Scrape down sides of bowl as needed to ensure all ingredients are combined.

Fold pumpkin into batter.

Divide batter into ~24 cupcakes liners. I find it helpful to use a 3tbsp cookie scoop to evenly portion batter for cupcakes. If you do not have one, fill approximately 2/3 full.

Bake for 17-20 minutes until down. For cupcakes I like to gently press on the dome, if it pops back up they are done.

Let cupcakes cool on cooling rack before frosting.

While cupcakes are cooling place butter and cream cheese in bowl of mixer. Beat until creamed together.

Add powdered sugar slowly while mixing on low followed by cinnamon.

Frost cupcakes and devour.



Recipe adapted from Made in Melissa's Kitchen