Just in time for Christmas, Sugar Cookie Cupcakes! 🎄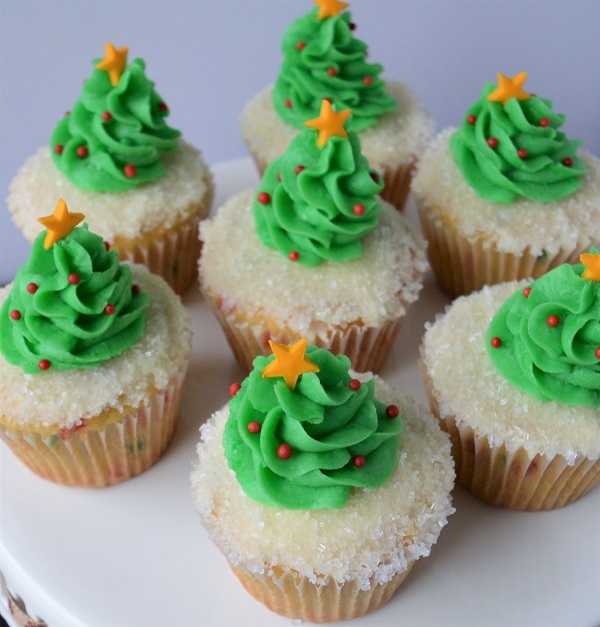 These cupcakes are not difficult to make, I promise. I used scratch made cupcakes and cookie dough for these, but if you are in a pinch for something to take to a Christmas party you can definitely use store bought mixes. The frosting using flavored coffee creamer, I have found it the best way to add that sugar cookie flavor without messing up the consistency.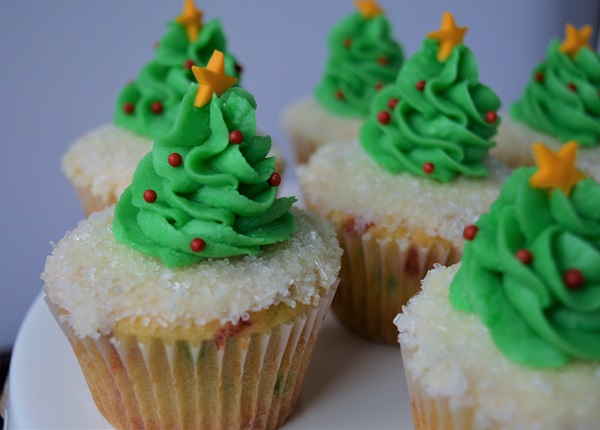 Note, if you use a confetti cake mix you will have double the yield of cupcakes and need to double the frosting recipe to match. I posted a little slide show of decorating the cupcakes on my Facebook page, check it out!
Vanilla Confetti Cupcakes
1 1/4 cup all purpose flour
1 1/4 tsp baking powder
1/2 tsp baking soda
1/2 tsp salt
2 eggs
3/4 cup sugar
1 tsp vanilla
1/2 cup canola oil
1/2 buttermilk (can sub whole milk with 1 tsp white vinegar, sit for 5 minutes)
1 1/2 tbsp jimmies (amount isn't very important, add until you like the look)
unbaked sugar cookie dough (store bought or homemade)
Preheat oven to 350 degrees and place cupcake papers in pan. (yield 12-15)

Into a small mixing bowl measure flour, baking powder, baking soda and salt. Whisk to combine.

With an electric mixer beat eggs and sugar together for ~1 minute, or until creamy.

Mix in oil and vanilla.

Add 1/2 of your dry ingredients to the wet and mix until just combined.

Add in your buttermilk, mix together followed by the remaining dry ingredients.

Stir in jimmies/sprinkles. You want to make sure the sprinkles are not the sugar crystal kind because they will melt when you make and not look as pretty.

Portion into cupcakes papers. You will want them not as full as usual; I used about 2 1/2 tbsp per cupcake or 1/2 full.

Place roughly 2 tsp of cookie dough into each cupcake. Bake for 15-18 minutes, or until they pop back up when pressed.
Sugar Cookie Frosting
2 sticks softened butter
2 1/2 cups powedered sugar
1 tsp vanilla
2-4 tbsp sugar cookies flavored coffee creamer
Place butter into bowl of mixing bowl and beat until sticks are creamed together.

Add powdered sugar and vanilla and mix until well combined.

Add coffee creamer, starting with lesser amount until consistency and flavor are ideal.
How to Decorate Christmas Tree Cupcake
1. Spread a thin layer of frosting onto the cupcake and dip into white sanding sugar (the clear sprinkles at the store). I like to dump sprinkles into a ramekin or cereal bowl for this step. This will give a 'snow' like effect.
2. Color remaining frosting green for the Christmas trees. Place icing into decorating bad fitted with a 1M or 2D decorating tip (these are the most popular and easy to find large tips).
3. A little inside the edges, as to not cover all the 'snow' make a swirl of green frosting by going in a clockwise motion and making the circle smaller until your 'tree' is as tall as you like.
4. Add sprinkles for ornaments on your tree.
5. Be proud of your creation!