I love winter. I enjoy the cold and snow that come with it. The idea of sitting on the couch snuggled up with a blanket and a cup of hot chocolate; it's just so cozy to me. So when I saw these adorable snowflake sprinkles (I may or may not own 20+ kinds of sprinkles…) I knew I had to have them and make a winter inspired cake to go with. ❄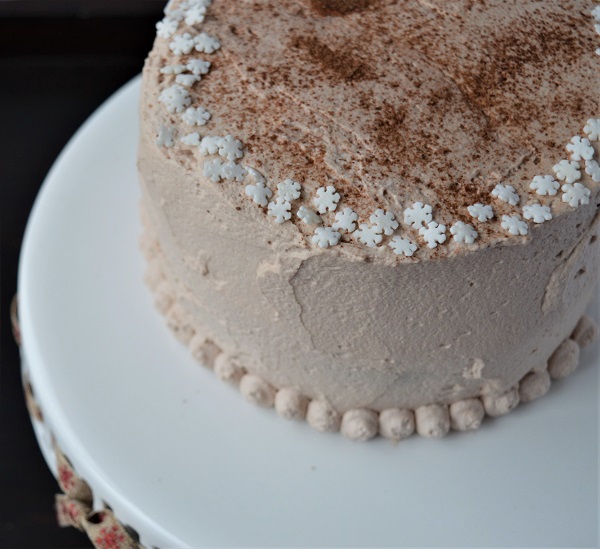 This cake takes all of the hot chocolate elements and blends it into one. The chocolate, the marshmallow, and the whipped cream.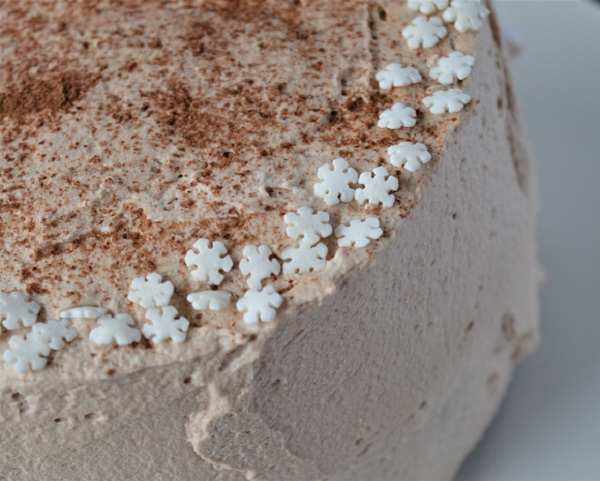 This recipe can be on the easier side by using store bought marshmallow fluff instead of making your own. Honestly, I cheated and used store bought. I hate using a million egg whites and having a ton of yolks left over. Unless it's summer and I'm making ice cream.
Hot Chocolate Cake
3/4 cup all purpose flour
3/8 cup unsweetened cocoa powder
1/2 tsp baking powder
3/4 tsp baking soda
1/4 tsp salt
3/8 cup sugar
3/8 cup light brown sugar, packed when measured
2 tbsp canola oil
1/4 cup buttermilk
1 tsp vanilla
1 egg
1/2 cup hot chocolate, made with milk
Preheat oven to 350° and grease and flour, or use baking spray, 2-6″ cake pans.

Combine dry ingredients (everything up to the oil) into medium sized mixing bowl and whisk well to mix.

In a small bowl, or measuring cup to avoid dirtying extra dishes, whisk oil, egg, buttermilk and vanilla together. Add 1/2 cup of the hot hot chocolate (make the hot chocolate like you are going to drink it and then measure out 1/2 cup) while whisking to assure no scrambled eggs are made.

Add wet to dry and whisk for 2-3 minutes until clumps are gone.

 Divide into prepared baking pans, place in oven and allow to cook 20-25 minutes or until toothpick comes out nearly clean.

 Allow to cool on wire rack for ~10 minutes before flipping out of pans. Allow to cool completely before frosting.
Hot Chocolate Whipped Frosting
1 cup heavy whipping cream
3 tsp hot chocolate mix
2 tbsp powdered sugar
2 tbsp marshmallow fluff
Place heavy cream into cold mixing bowl and beat until soft peaks form.

 Add hot chocolate mix and marshmallow fluff and continue to beat until stiff peaks form.
To Assemble – -warning, you may become sticky like a small child with a lolly pop.
Fill one piping bag or zip top bag with frosting and a second with marshmallow fluff. 

Place one cake layer on plate and pipe a ring around the circumference of the cake with the frosting to build a dam.

 Fill in center of the cake (inside dam) with marshmallow fluff. I find it much easier to squeeze in then attempting to spread the sticky stuff.

 Place second cake layer on top and refrigerate for at least 20 minutes. (place piping bag with frosting in the fridge too)

Remove cake and pipe in a rough zig zag motion (like you're painting a wall) on the sides and top of the cake, use a spatula to smooth frosting (it will not be perfect and that's okay!).

 Optional, dust top with any remaining hot chocolate mix and place sprinkles on outer edge. 
Notes: This recipe can be used to make 12-15 cupcakes or doubled to make a standard 2 layer 8 inch round cake. I have a 1/8 measuring cup; if you do not 3/8 of a cup is equivalent to 1/4 cup + 2 tablespoons.