Valentine's Day is nearing! It's one of those holidays that a lot of people have different opinions on. Some go all out buying gifts for their significant other and some simply just wish their significant other Happy v-day and call it good. I am closer to the second, but it's a good excuse to make dessert.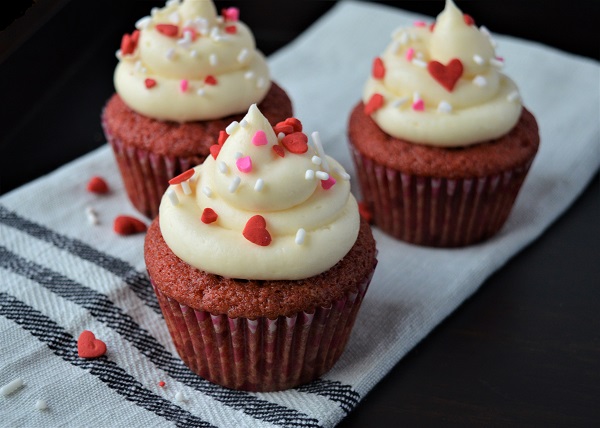 Red velvet cupcakes are super easy to make and festive! I like to top mine with a simple cream cheese frosting, a few heart shaped sprinkles and they are good to go!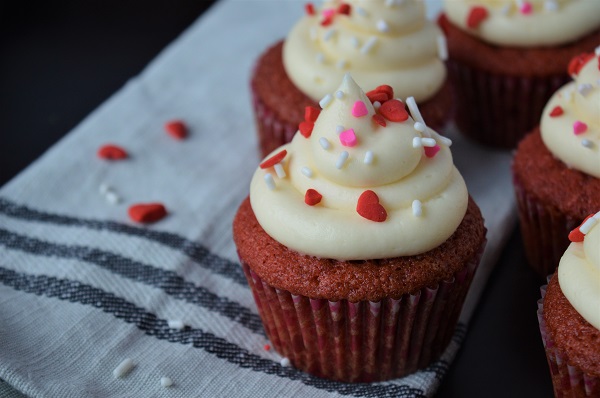 Red Velvet Cupcakes
1 1/4 cup flour
1 cup sugar
1/2 tbsp cocoa powder
1/2 tsp baking soda
1/2 tsp salt
1/2 cup buttermilk *
3/4 cup vegetable to canola oil
1/2 tbsp vinegar
1 egg
1/2 tsp vanilla
1 oz red food coloring
Cream Cheese Frosting
6 oz package cream cheese
1 1/2 sticks butter (3/4 cup)
2-3 cups powdered sugar
1 tsp vanilla
Preheat oven to 350 degrees and place liners (12) in cupcake pan.

In a medium sized bowl combine dry ingredients and whisk together.

 In a small bowl, or large measuring cup (save on dishes), whisk together wet ingredients.

 Add wet to dry and mix until well combined.

 Divide batter evenly between cupcake liners and place in oven for 18-20 minutes, or until they spring back when the top is pressed.

While cupcakes are cooling, make frosting by creaming together butter and cream cheese until smooth. Add vanilla and powdered sugar, starting with the lesser amount and adding based on desired sweetness.

 Decorate cupcakes as desired and share for Valentine's day

❤
Notes: Buttermilk can be substituted with whole milk and 1 tsp vinegar or 1/4 plain greek yogurt and 1/4 milk.