I have been on hiatus recently. The New Year has brought 2 jobs and trying to eat healthier; neither of which is conducive to writing a blog about desserts.
Today's recipe addresses both problems.
1. By being quick and easy.
2. By being miniature to help control portion and not completely ruin your diet.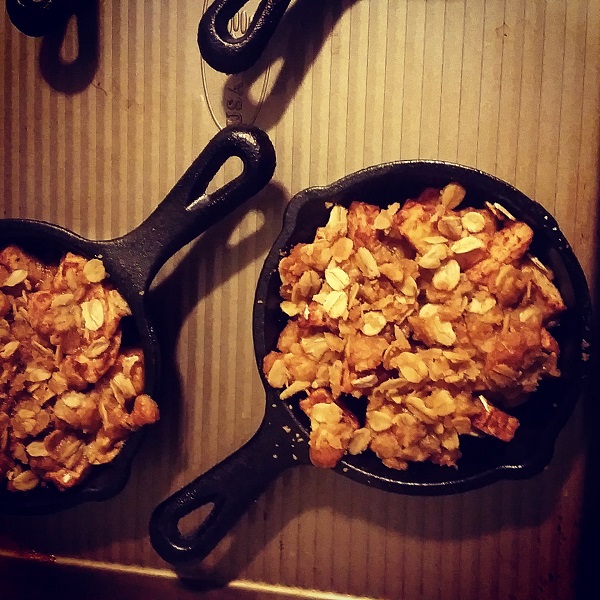 Please don't mind the awful photo. The lack of natural light in January really hurts the quality.
Apple Crisp
1 cup finely diced apple
1 tbsp flour
2 tbsp brown sugar
1/2 tsp cinnamon
1/4 tsp nutmeg
1/4 cup rolled oats
1 1/2 tbsp flour
1/4 cup brown sugar
2 tbsp butter
Preheat oven to 375 degrees.

Combine chopped apple, flour, brown sugar, cinnamon and nutmeg in a mixing bowl.

In a separate small bowl, combine rolled oats, flour, brown sugar and butter with hands of fork until it appears 'crumbly'.

 Place apple into 4 small dishes and top with oat mixture.

Bake for 20-25 minutes or until golden on top.

 Indulge. Feel free to top with a scoop of vanilla ice cream, yum.
Notes: I used 4, 3″ cast iron skillets for this recipe. You could alternatively use ramekins, they are deeper and therefore you will probably only get 2 servings instead of 4.