I was never a fan of cranberries before, maybe because of their tart nature. However, I adore all things cranberry + orange; scones, muffins, cupcakes, cookies, etc. I think the loads of sugar added to them plus a little citrus gives them just the pop they need.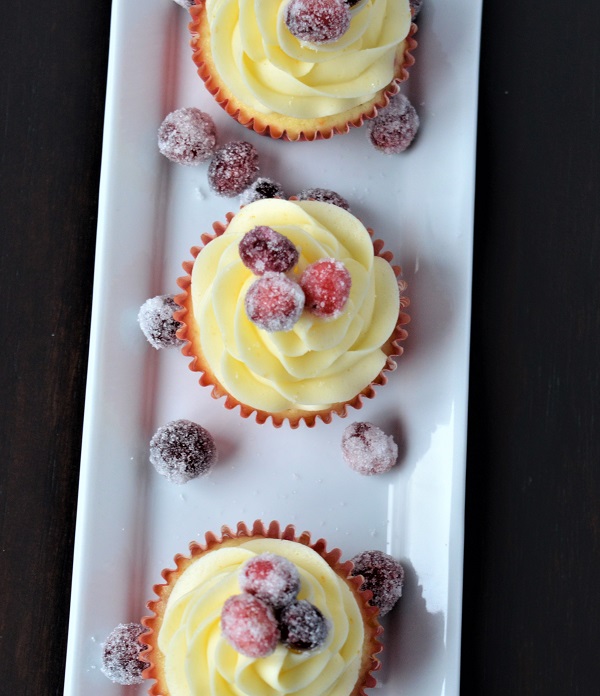 These cupcakes take a little extra work if you choose to make the sugared berries for on top. They do look pretty though and they can be made up to a week ahead of time.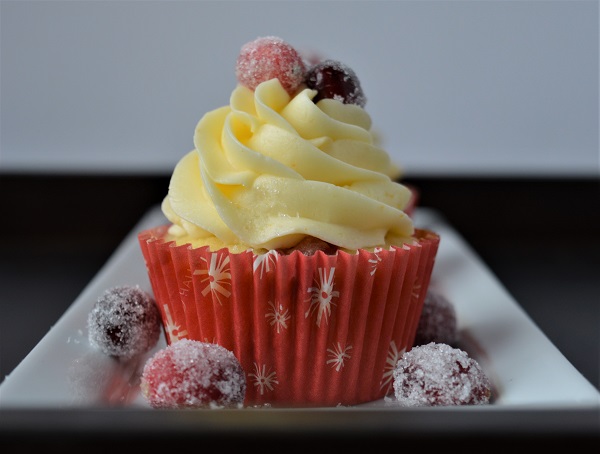 The original recipe calls for cranberry frosting, but I find it difficult to chop them tiny enough to be able to do pretty pipping. Also, it requires buying another bag of fresh cranberries. I instead opted for an orange frosting that still compliments the cupcakes well.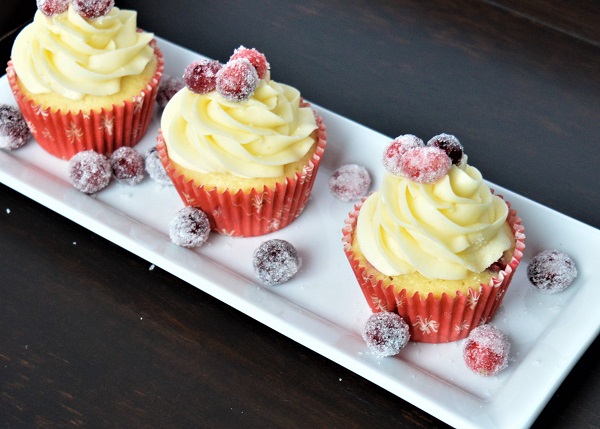 Cranberry Orange Cupcakes
1/2 cup butter, softened
1 cup sugar
2 eggs
1/2 tsp orange extract
3/4 cup buttermilk
1 1/2 cups flour
2 tsp baking powder
1/2 tsp salt
zest of an orange
1 1/2 cups roughly chopped cranberries
Yields 15-18 cupcakes.
Preheat oven to 350 degrees and line muffin tins with cupcake papers.

Combine flour, baking powder and salt into small bowl.

In a large mixing bowl cream butter and sugar together until fluffy. Add eggs one at a time, scrapping bowl as needed. Mix in orange extract and orange zest.

Pour in about 1/3 of the butter milk and mix until combined.

Add about 1/2 of the dry ingredients and mix until just incorporated. Repeat steps 4 and 5 until all ingredients are used.

 Divide batter into muffin cups and bake for 17-20 minutes; or until the tops spring back up when gently pressed.
Orange Frosting
1 cup (2 sticks) butter, softened
2 1/2 cups powdered sugar
2 tbsp fresh orange juice
zest of one orange
2-3 tbsp heavy cream
Beat butter with electric mixer until creamed together.

 Slowly add powdered sugar, orange zest and orange juice. Mix until well combined.

 Add heavy cream and mix well on medium speed. Your desired consistency may require more or less heavy cream.

Frost cooled cupcakes and top with optional sugared cranberries.
Adapted from Taste and Tell.