I cannot believe that Thanksgiving is in two weeks! Confession: I have never ate pecan pie. It was never a big thing in my family at Thanksgiving. Pecan pie seems to be a southern thing, living in rural PA as a child, pecan pie didn't make an appearance.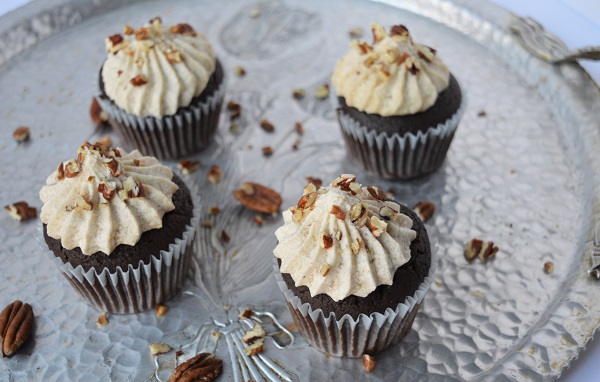 I love making other desserts into cupcakes. In the past I've done banana cream pie cupcakes, apple pie cupcakes, chocolate chip cookie cupcakes, turtle sundae cupcakes, etc. So naturally, pecan pie made the list.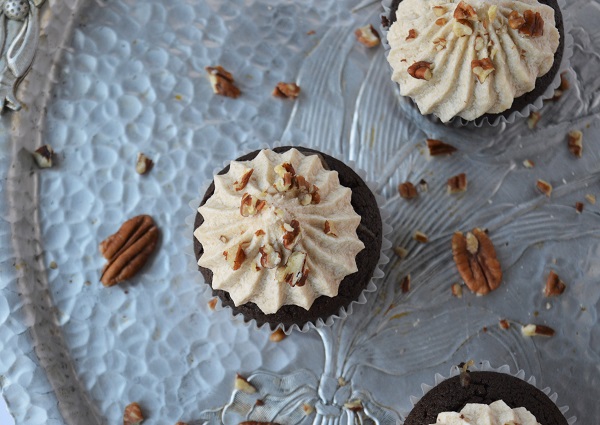 I had my husband taste test the filling as I was clueless of what it was to taste like. He gave it two thumbs up and off went a dozen of these to work with him.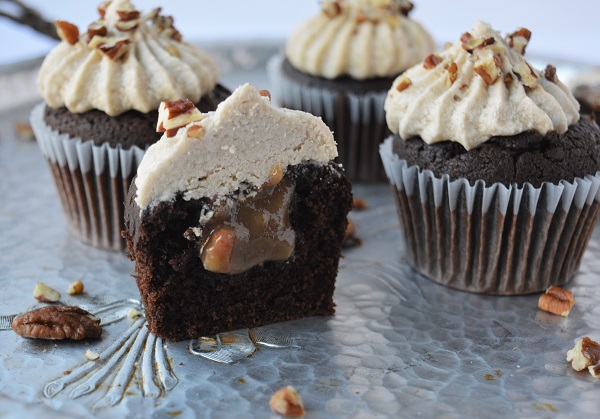 The original recipe is very time consuming and a little difficult to follow. I've simplified it a bit; it still is a bit time consuming with making and chilling the filling. I recommend doing that step first, so it has time to cool while you bake the cupcakes. Heck, you can even do the filling a day in advance if that works better time-wise. 
Filling
2 tbsp cornstarch
1/4 cup water
3 eggs
1/2 cup brown sugar
3/4 cup corn syrup
1/4 tsp salt
1 cup chopped pecans
2 tbsp bourbon
1 tsp vanilla
Cupcakes
2 cups flour
3/4 cup unsweetened cocoa powder
1/2 tsp salt
1 1/2 tsp baking soda
1 cup bourbon
1 cup canola oil
2 eggs
2/3 cup plain greek yogurt or sour cream
1 1/4 cup sugar
Frosting
2 sticks unsalted butter, room temperature
3 cups powdered sugar
1 cup brown sugar
1/4 tsp cinnamon
2-4 tbsp heavy cream
1/4 chopped pecans
Make filling by whisking together water and cornstarch. Place cornstarch mixture, corn syrup, brown sugar, eggs an salt in saucepan. Whisk to combine. Bring mixture to a boil, whisking constantly, for about 5 minutes. Remove from heat and stir in nuts, bourbon, and vanilla. Allow to cool and place in fridge.

Preheat oven to 350 degrees and line 2 cupcakes tins.

Combine flour, cocoa powder, salt and baking powder into medium sized mixing bowl.

In a larger mixing bowl add oil, bourbon and sugar. Beat until combined.

Add in eggs one at a time, making sure they are well incorporated.

Slowly mix in dry ingredients. Portion into lined cupcake pans; fill about 3/4 full. I got close to 2 dozen.

Bake for 17-20 minutes, or until they pass the dome or toothpick test.

 Cream softened butter in bowl of stand mixture. Slowly add in powdered sugar, brown sugar, and cinnamon and mix on medium low until well combined.

Add heavy cream as needed to adjust consistency of frosting. Note, this frosting will be a little gritty due to the brown sugar.

Frost cupcakes as desired and sprinkle with chopped pecans.
Recipe adapted from Half Baked Harvest