I received some free, already peeled and sliced apples from my mom this past weekend. What a win! I didn't have any of the hard work to do. I knew I needed to make something sweet with them, so I decided to mix it up from my usual cupcake and instead make a cheesecake.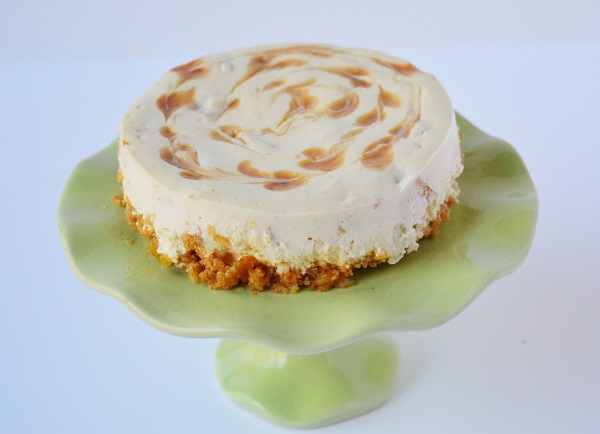 I could probably eat the whole thing in one sitting. So, the cheesecake pictured is 1/3 of the recipe, as I didn't want to be tempted to try. 
Crust
1 3/4 cup crushed graham crackers (I used regular, but I bet the cinnamon flavored ones would work great)
1/3 cup melted butter
1/4 cup sugar
Cheesecake
3 – 8 oz packages cream cheese (full fat or 1/3 fat)
1 cup sugar
1 cup plain greek yogurt
1 tsp vanilla
3 eggs
1 tsp cinnamon
1 cup finely chopped apples
caramel sauce for swirling
Preheat oven to 350 degrees. Grease a 9 inch spring form pan.

Combine melted butter, crushed graham crackers and sugar. Press into bottom on pan. Bake for 10 minutes.

While crust is cooling, beat cream cheese with electric mixer until smooth.

Next add sugar, greek yogurt and vanilla to cream cheese. Mix until well combined.

Add eggs one at time, making sure they are fully incorporated. 

Gently fold in apples and cinnamon. 

Pour batter onto cooled crust. Place small puddles of caramel sauce on top, gently run knife through to make swirled effect.

Bake cheesecake for about 1.5 hours, until nearly set. When you bump the pan the middle of the cheesecake should barely jiggle.

Turn off the oven and allow cheesecake to cool for 1-2 hours before removing to cooling rack.
A few notes – some people prefer to bake cheesecakes in a water bath, as it often helps prevent cracking. I do not have a dish large enough to place the cheesecake into, so I skipped this step. I also find that the speed in which the cheesecake cools to lead to cracking; hence allowing it to cool in the oven prior to removal can be helpful.